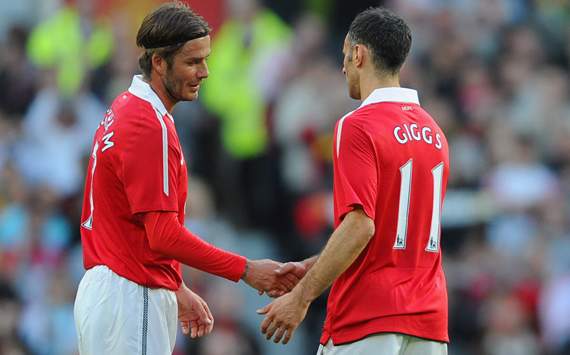 Manchester United legend Gary Neville believes David Beckham has left a lasting legacy in football in the USA.

The former Red Devils defender says the LA Galaxy star, whose contract expires with the MLS club at the end of this season, has influenced youngsters in America to play football.

"David has had a huge impact on American football but he is the sort of character and person that has a massive impact on whatever he does and wherever he goes and I'm sure that there will be lots of long-term benefits as well," Neville told Goal.com. "That sort of influence he has had will have had a huge affect on the crowds for the MLS games and the young people who will aspire to take up soccer."

Despite the MLS still not being as popular as the NFL, NBA, MLB and NHL in America, Neville believes time will show just how important Beckham is to football in the United States.

"His influence won't be just felt while he is playing but there it will be felt for many years to come because I am sure they will see that he will have inspired huge numbers of young people to actually take up the sport," Neville said. "That is some legacy."

Beckham, who is better known in the United States for his celebrity status alongside wife Victoria than his football skills, dreamed of coming to America early on his career. Unlike several other top players around the world, Beckham entered the league in his prime rather than use the MLS as a good retirement destination.

The England legend signed with the Galaxy on January 11, 2007 for what was originally reported to be a deal worth $250 million (£156m), but it was later revealed that the price was nothing more than an estimate of how much he could make with endorsements over his five-year contract. The actual deal with the club turned out being $32.5m (£20.3m) over the half decade.

"He always mentioned going to America to play before he finished his career and that is something that he [has] gone and done and really relished it," Neville said. "That's because he would always want to be successful. He is an incredibly driven person who continued to play for England during the first part of his time over the California. That is a huge achievement."

Beckham and Neville have a friendship that dates back to the early '90s when both began their rise from United's academy to world-wide stardom.


Neville ended up playing all 19 years of his career with the Red Devils, while Beckham went on to play for Real Madrid before making his way to the MLS. But they have remained friends since, with Neville being the best man at his former team-mate's wedding in 1999 and Beckham making a trip back to Manchester to participate in Neville's testimonial in May.

"I have been in touch to congratulate him and Victoria on their new arrival," said Neville, referring to the couple's fourth child, Harper Seven Beckham, who was born this week.

While Beckham wore a United shirt for perhaps the last time during Neville's testimonial, the 36-year-old will face his former team this month during the World Football Challenge.

With United beginning their North America tour this week with a match against the New England Revolution at Gillette Stadium on Wednesday, Neville looked back at his days travelling with the Premier League champions.

"When we go on tour the things we would send back were presents and things that we would buy that we couldn't carry back ourselves such as fragile items or pieces of furniture if we were doing things for our homes," Neville said. "The quirkiest thing I sent back home were some Moroccan chairs that are still taking pride of place in the Neville household."
-courtesy of goal.com